Guest Post – Tradition Mortgage's Weekly Update September 17, 2014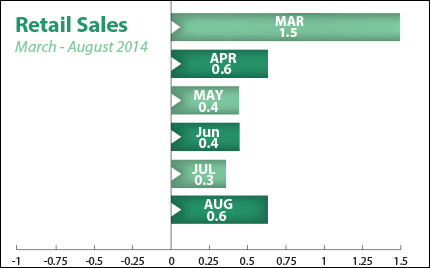 Consumers opened their wallets in August, as Retail Sales rose by 0.6 percent, buoyed by a surge in auto sales and partially offset by a decline in gas prices. Sales for July were also revised higher. The Consumer Sentiment Index for September also came in above expectations. Meanwhile, Initial Jobless Claims rose in the latest week, but remain relatively close to the 300,000 level they've been averaging recently.
In housing news, RealtyTrac reported that foreclosure filings in August, which included default notices, scheduled auctions and bank repossessions, declined 9 percent from a year earlier, to nearly 117,000.
What does all of this mean for home loan rates? Positive economic news often causes money to flow out of Bonds and into Stocks, as investors hope to take advantage of gains. However, uncertainty trumped this principle last week, as both Stocks and Bonds worsened ahead of the upcoming Federal Open Market Committee meeting.
Investors are nervous about what the Fed may say regarding the end of their massive Bond-buying program, which is expected to end in late October. The program has helped boost the housing industry since its most recent inception in late 2012. However, despite the recent volatility in the markets, home loan rates still remain near 12-month lows.
The bottom line is that now is a great time to consider a home purchase or refinance. Let me know if I can answer any questions at all for you or your clients.