Guest Post – Tradition Mortgage's Weekly Update June 4, 2014

It's been said that every cloud has a silver lining. And while some key reports from last week could mean stormy skies ahead for our economy, the "silver lining" from the worse than expected news was that it helped home loan rates improve. Read on for key details.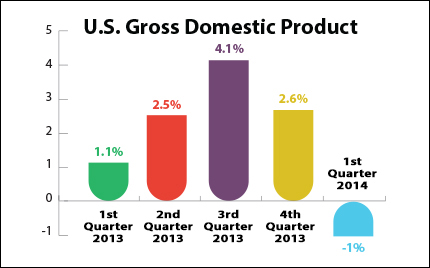 Perhaps the biggest "cloud" for our economy last week came with the second reading on Gross Domestic Product (GDP) for the first quarter, which came in at -1.0 percent after the initial read of 0.1 percent. This is the first negative reading for GDP since the first quarter of 2011. GDP is the broadest measure of economic activity, and it will be important to see if the number improves as we head further into 2014. 
In housing news, research firm CoreLogic reported that there were 46,000 completed foreclosures in April, down 18 percent from April 2013. Before the housing market decline in 2007, completed foreclosures averaged 21,000 per month between 2000 and 2006. In addition, the Case Shiller 20-city Home Price Index grew at an annual rate of 12.4 percent in March. Overall, the report showed that housing prices are rising at more normal levels after the big gains seen in 2013. 
Also of note, signs of inflation are starting to creep into our economy. Core Personal Consumption Expenditures (the Fed's favorite read on inflation) rose to 1.4 percent in April, after a 1.1 percent rise in March and a 0.9 percent gain in February. April's reading is the highest 12-month rate since March 2013. 
What does this mean for home loan rates?Remember that home loan rates are tied to Mortgage Bonds, so as Bonds improve, rates improve. Mortgage Bonds have improved lately for many reasons, including our tepid economy, the weakened Euro and the Fed's big Bond-buying program. In addition, the uncertainty with Russia and the Ukraine has caused investors to move their money out of Stocks and into less risky assets like Bonds. 
But rising inflation is something to keep an eye on. Inflation is the arch enemy of Bonds, as inflation reduces the value of fixed investments like Bonds. If inflation continues to heat up, Bonds could worsen, which would impact the improvement we've seen in home loan rates. 
The bottom line is that now remains a great time to consider a home purchase or refinance. Home loan rates remain attractive compared to historical levels, and they're at some of the best levels seen this year.