2012 Cystic Fibrosis Stair Climb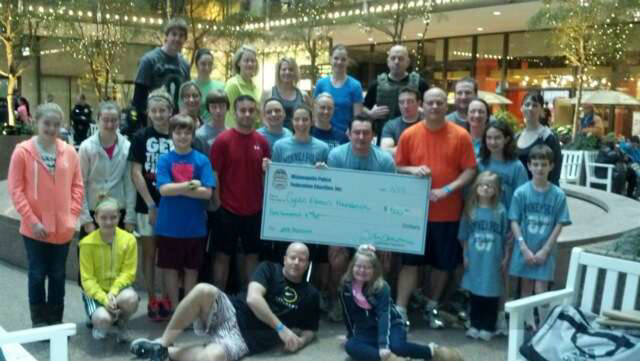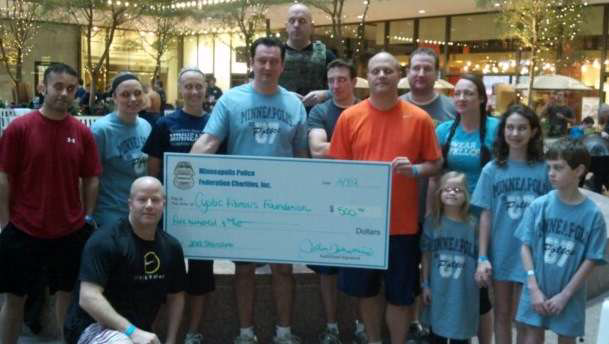 On February 4th the Minneapolis Police team took to the IDS steps once again to
compete in the annual IDS stair climb for Cystic Fibrosis. With many of the Minneapolis
Fire Fighter climbers in Florida, the competition was wide open for a new champion this
year. Team MPD was made up of 21 members of the MPD and 15 civilians who also
climbed and helped us raise money.
A $500 check for Cystic Fibrosis from the Police Officers Federation of Minneapolis and
a $5,000 check from the Ciresi Law Firm, along with other contributions from our team
members, helped raise approximately $9,500 for Cystic Fibrosis! MPD took first place in
the fundraising and 7th place on the stairs.
Saint Paul Fire took first place on the stairs knocking Minneapolis Fire out of the #1
position for the first time in 7 years.
About half way up the stairs I passed K9 Officer Dan Ungurian carrying Officer Sherral
Schmidt's daughter, Maddie, up the stairs as an extra challenge for the climb!
List of participating departments
Burnsville Police
Eden Prairie Fire Department
Hennepin County Sheriff's Office
Homeland Security Investigations
Lakeville Fire
Minneapolis Fire Department
Minneapolis Police Department
Minnesota State Patrol
Ramsey Co Sheriff's Office
Saint Paul Fire/KSTP
Saint Paul Police Department
The 2013 climb will be the first Saturday in February and we'll need a strong showing of
MPD officers to knock Saint Paul Fire out of 1st place. If you know of another team of
cops or firefighters from a different department who would like to form their own team
have them contact me by e-mail.
Officer Michael Kirchen